American Black Film Festival Announces 2023 Talks Series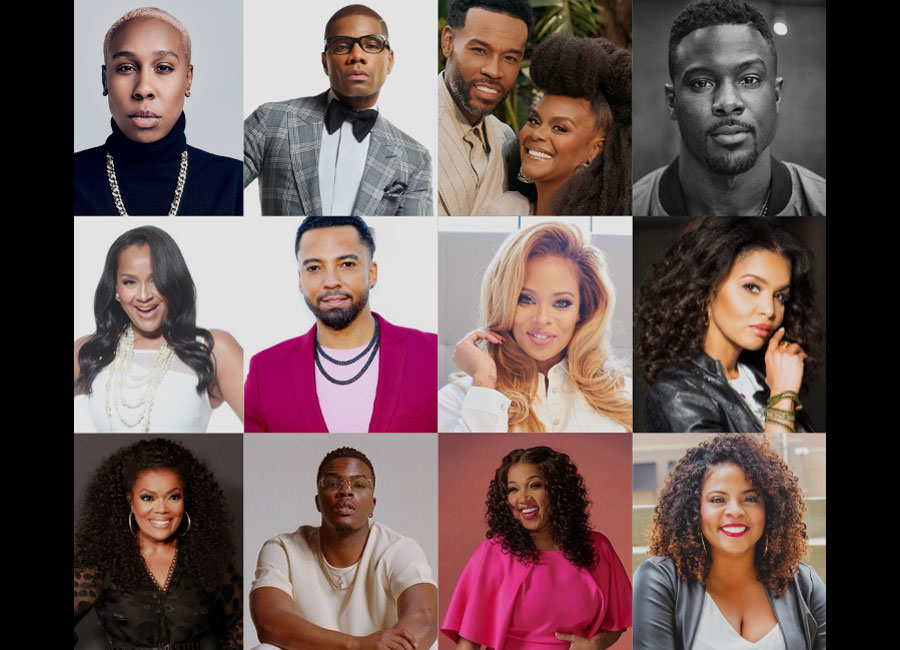 With Lena Waithe, Kirk Franklin, Tabitha Brown, Kym Whitley, Yvette Nicole Brown, Daniel Ezra, Christian Keyes, Lance Gross, Eva Marcille, LisaRaye McCoy and more.
LOS ANGELES, (May 5, 2023) – The American Black Film Festival (ABFF) today announced its 2023 Talks Series lineup, featuring conversations and panels with award-winning directors, producers, top-line talent, music composers and social media influencers, including the 2023 Festival Ambassador Lena Waithe. The annual Community Day rounds out the five-day festival, providing a place for festivalgoers and the local Miami Beach community to experience and engage in encore presentations. The 27th annual ABFF will take place in Miami Beach June 14-18 and will be available to a global audience June 19-25 on ABFF PLAY (https://abffplay.com/)
"We are excited to present a compelling slate of conversations from leading storytellers across film, television, music and social media platforms that are empowering and entertaining," said Nicole Friday, festival producer, president and COO, ABFF Ventures. "The Talks provide the audience with first-hand access allowing them to engage and learn from creatives and industry leaders. That's the magic of the festival."
Highlights include opening night remarks from multi-hyphenate Emmy-winner and Hillman Grad founder Lena Waithe, who will share an exclusive onstage look into her journey in a one-on-one conversation, "The Lena Waithe Effect," sponsored by American Airlines. Tabitha Brown and husband Chance Brown will take the stage with a candid conversation — "That's Our Business," delivered by UPS. Kirk and Tammy Franklin (The One) will join LisaRaye McCoy (Asking for a Friend) in a lively discussion presented by TV One Networks. Yvette Nicole Brown and comedian Kym Whitley share gems in "Act Your Age" presented by Bounce TV. Celebrating the 50th anniversary of hip hop is Xfinity Original Series "Hip House." Morgan Rhodes (The Color Purple) and Carolyn Owens (Cherish the Day) come together to discuss the world of music supervision in "WBD Access Music Supervisor Panel; and Warner Bros. Pictures will share the "ABFF First Look: The Color Purple – A Bold New Take on a Beloved Classic." Culminating the festival will be a special screening of MAX's all-new animated series "Young Love" from Matthew Cherry (Hair Love). Continuing ABFF's talent discovery program, which finds emerging artists and introduces them to the entertainment industry, is the return of ALLBLK's "Shoot Your Shot Casting Call," featuring this year's guest reader Lance Gross.
Other festival moments include candid conversations about Black culture: Cadillac's "Creating Cultural Capital;" We The Culture (META) presents "The Creator Cameo: How We The Culture is Powering The Next Generation of Black Hollywood;" P&G's "Widening the View Black Experience;" Andscape presents "Where Blackness is Infinite. Welcome Home;" "Warner Bros. Television presents "All American: Getting Authentic Black Stories to the End Zone;" and just in time for Father's Day, Walmart presents "Dear Dad: A Conversation on Black Fatherhood." Financial empowerment and money management for creators and individuals is discussed in "Creator Economy: From Bootstrapping to Business" presented by Ally. The Motion Picture Association (MPA) discusses "How Social Media Transformed Filmmaking;" ESPN Films shares how the best storytelling transcends sports in "We're Not Just Sports;" "How to Secure (and Grow) the Bag: Making Your Money Work Harder Than You Do" from Prudential Financial; production in Georgia is the focus of "Production in the Heart of the Peach," from Fulton Films GA; and "Writers (Un) Blocked: Black Women Writers Tackle Film & TV" presented by META.
On the virtual front, alumni from NBCU LAUNCH's TV directors and writers programs join "Keeping it Real: Maintaining Mental Wellness as a Creator of Color," presented by Comcast NBCUniversal; IMDb presents "Use IMDbPro to Navigate and Advance Your Entertainment Career;" and Universal Filmed Entertainment Group's Global Talent Development & Inclusion (GTDI) team presents "Hitting the Right Note: Creating Access for Emerging Composer Talent in the Industry" featuring Universal Composers Initiative current talent and successful alumni sharing their journeys and highlights of their careers in the industry.
Annual festival pleaser events include: the 26th HBO Short Film Award Showcase, hosted by Bevy Smith, featuring five shorts from emerging filmmakers who compete for the prestigious award; and the Best of the ABFF Awards, hosted by Emmy-nominated actor/author Dondré Whitfield, where the 2023 independent film awards and talent contest winners will be presented.
The live festival culminates on Sunday, June 18 with its annual ABFF Community Day in partnership with the Greater Miami Convention and Visitors Bureau as part of its commitment to inform, educate and provide opportunities in the entertainment industry to the local community. The event is free and open to all South Florida residents.
All ABFF live events are held in and around Miami Beach including the New Word Center Performance Hall, the Miami Beach Convention Center, O Cinema South Beach, The Bass Museum and the Black Archives Historic Lyric Theater.
ABFF's Talks Series complements previously announced programming which includes narrative and documentary official film selections, exclusive spotlight screenings and world premieres, sneak peaks and red-carpet premieres.
Following is the schedule of live and virtual 2023 ABFF Talks Series events to date. For times, locations and more details, visit www.ABFF.com
ABFF Live Talks Series Events June 14-18, 2023
Thursday, June 15, 2023
How Social Media Transformed Filmmaking
Presented by Motion Picture Association
Thanks to digital and social media, aspiring filmmakers now have an incredible world of educational resources right at their fingertips — and TikTok, Instagram, and other social media platforms are turning younger people into filmmakers every day. But how is social video changing the broader video landscape? Are social platforms creating the next generation of professional filmmakers? And for the indie filmmakers among us, how can you best use social media to get more attention and awareness — and money — for your projects? Join this panel of leading media experts to discuss these questions and much more.
Panelists: Gabriel Alexis, Bryan Wolfinger, Ade Johnson, and Angel N. Livas Moderator: David Hudson
WBD Access Music Supervisor Panel
Presented by Warner Brothers Discovery
Join us for a discussion about the world of music supervision featuring Morgan Rhodes (The Color Purple, Queen Sugar, Space Jam) and Carolyn Owens (Cherish the Day, Unprisoned, Flatbush Misdemeanors), moderated by Naima Cochrane. We will explore how to get music placements, budgeting for music for film/TV, discuss the role of a music supervisor, and much more!
Act Your Age
Presented by Bounce TV
Bernadette, Keisha, and Angela are making the rest of their lives the best of their lives as roommates in a penthouse Bernadette owns in the DMV. This comedic series looks at what it means to be a woman in the prime of her life trying to find love, parenting adult children, living with friends, and redefining what it means to "act your age." Join us for clips & conversations as we discuss "Act Your Age" with show leads Kim Whitley and Yvette Nicole Brown and series creator and showrunner Alyson Fouse.
We're Not Just Sports
Presented by ESPN Films
This hosted clips-and-conversation panel will focus on the business of developing and producing documentary series, features, and shorts. The discussion will discuss what producers look for in a pitch and closely examine the distribution trends of the broadcast and streaming business. The panel will also showcase how ESPN Films and 30 for 30 feature the work of today's finest storytellers from inside and outside the sports world. It will balance creative and marketplace considerations to provide a complete picture of how the best storytelling transcends sports to provide meaningful perspectives on culture, race, adversity, triumph, and the human experience.
The Lena Waithe Effect
Presented by American Airlines
Emmy-winning writer, creator, producer, actor, founder and ABFF's 2023 Festival Ambassador Lena Waithe is unapologetically transforming the culture in Hollywood with creativity, diversity and wit. A natural born storyteller, with projects including The Chi, Queen & Slim, Twenties, in this intimate conversation, Lena shares her journey to become one of the most respected artists and producers in Hollywood. The audience will experience what comprises The Lena Waithe Effect, including her unwavering commitment to support diverse voices and create art that defies the status quo.
Panelist: Lena Waithe, Hillman Grad
Writers (Un) Blocked: Black Women Writers Tackle Film & TV
Presented by META
What does it take to become a successful screenwriter? Black women writers reflect on their journeys in the film and TV industry, share creative and business advice, and discuss the value of finding their voices—and illuminating the stories of Black women.
Panelists: Tembi Locke, Attica Locke
Moderator: Terri Prettyman Bowles and Michele Prettyman
Hip House
Presented by Comcast NBCUniversal | Xfinity
This year marks the 50th anniversary of hip hop. Join us as we celebrate with Clips & Conversation discussing the new Black Experience on Xfinity Original Series, "Hip House." Listen as the executive producers and talent from the doc discuss the making of "Hip House" and the impact of hip hop and House within the music industry. The session will feature the iconic DJs, executive producers, and other special guests from the doc.
Shoot Your Shot
Presented by ALLBLK
The ALLBLK x ABFF casting call is back. Once again, one lucky winner will be next to earn a leading role in the upcoming ALLBLK original series, Involved, created by and starring Grammy-nominated singer and actor Omarion. The top five finalists will perform in front of a live audience and the winner will be selected by a panel of industry judges.
Panelists: Brett Dismuke, Leah Daniels Butler, Nikki Love
Guest Reader: Lance Gross
HBO Short Film Awards Showcase
Presented by HBO
Five finalists will compete in ABFF's Annual HBO Short Film Award Showcase. The prestigious showcase will celebrate 26 years of HBO's commitment to recognizing the next generation of diverse, artistic, and creative talent at ABFF, including this year's groundbreaking directors with diverse styles of filmmaking.
Finalists: To Be Announced
Moderator: Bevy Smith
Friday, June 16, 2023
Production in the Heart of the Peach
Presented by Fulton Films (GA) Office
Film and tv producers, actors and directors are flocking to Atlanta/Fulton County to produce their films. With its enticing film tax-credits the State of George has become the hottest location for film projects boosting $4.4 billion in revenue, with the majority of the productions created in the Heart of the Peach, Fulton County, GA. Join the stars of the popular BET + series All the Queens Men to hear why they choose to #FilminFulton and why you should consider bringing your next production to the ATL.
Panelists, Christian Keyes, Eva Marcille, Shaunya Chavis-Rucker and Commissioner Marvin Arrington, Jr.
All American: Getting Authentic Black Stories to the End Zone
Presented by Warner Bros. Television
Television can often times be a conduit for change, especially when it shines a light on important, relatable issues. Leading creative forces will come together for a candid conversation about Black excellence, family dynamics, community impact, and mental health. Join creatives and stars from All American, for a deeper dive into telling Black stories on television, delivering programming for all ages, and more.
Panelists: Daniel Ezra, Bre-Z, Greta Onieogou, Samantha Logan, Michael Evans Behling
POV: Life of a Showrunner
Presented by Comcast NBCUniversal
Prolific showrunners discuss how they develop nuanced and authentic stories, provide a candid POV of what it really means to be a showrunner and talk about navigating their careers in the industry.
Moderator: Gary Gerard Hamilton, Associated Press
Thursdays Are For Lovers At TV One: The One and Asking For A Friend
Presented by TV One Networks
"The One" is a fun, competition dating series, led by celebrity power couple Kirk and Tammy Franklin. The Franklins will share their magic to maintain a healthy relationship with one male and one female single who live an exceptional life, except when it comes to dating and finding love. "Asking for a Friend…" is a modern, self-contained dating show in which two single best friends looking for love, choose blind dates and then double date together, all in one evening. Join our renowned panelists as they share wisdom and inspiration from the lens of their respective series.
Panelists: Kirk Franklin, Tammy Franklin, LisaRaye McCoy, Allison Simmons
Moderator: Michelle Rice, President, TV One
Creator Economy: From Bootstrapping to Business
Presented by Ally
Come join Ally Financial and a powerhouse panel as they discuss equipping the creator economy with financial education to build a firm foundation in support of their craft.
Panelists: Jack Howard, Ronne Brown, and TBD
Moderator: Gia Peppers
Dear Dad: A Conversation on Black Fatherhood
Presented by Walmart
Did you remember it's Father's Day weekend? Featuring a celebrity panel of dads, this intimate discussion will aim to shift the narrative around Black men as fathers, highlighting the importance of their presence within the family and the Black community. We will also premiere three short films from emerging filmmakers, Jared Malik Royal, Dior Rodriguez and Rodney Rikai, as they share stories of fatherhood from their own eyes.
The Creator Cameo: How We The Culture Is Powering The Next Generation of Black Hollywood
Presented by: We The Culture (META)
Black art in commercial media has taken several steps forward over the last decade to celebrate diverse talent in front and behind the camera. Rising stars from Meta's We The Culture (Black Creator Program) discuss how they create at the intersection of the internet and culture, producing inclusive and engaging content on big and small screens for global audiences.
Panelists: LaLa Milan, Ezee, Kimberly Renee, Randy Savvy
Moderator: Michelle Mitchell, Head of Culture, Content and Equity, META
Saturday, June 17, 2023
How to Secure (and Grow) the Bag: Making Your Money Work Harder Than You Do
Presented by Prudential Financial
Prudential Financial Planner Delvin Joyce and a special guest share their stories on money management. Hear tips on how to live well today and plan financially for tomorrow.
Widening the View of the Black Experience
Presented by P&G
Let's widen the screen, so we can widen the view of the Black experience. Join us for a clips & conversations event featuring six dynamic filmmakers from The Queen Collective, which is P&G's signature talent development initiative created in partnership with Queen Latifah that aims to accelerate equality for Black women and non-binary filmmakers.
Panelists: Contessa Gayles, Idil Ibrahim, Imani Dennison, Jenn Shaw, Luchina Fisher, Vashni Korin
Where Blackness is Infinite. Welcome Home
Presented by Andscape
Andscape is a Black media platform dedicated to creating, highlighting, and uplifting the diverse stories of Black identity. Magnified by the power and reach of The Walt Disney Company, the Andscape umbrella includes an editorial division, book publishing arm, film and television division, and music publishing group – each united by the shared mission of illuminating the culture and experience of Blackness.
Panelists: EmmoLei Sankofa, Tre'vell Anderson, and Joi Elaine
Moderator: Raina Kelley, Vice President and Editor-In-Chief, Andscape
"That's Our Business" A Conversation with Tabitha & Chance Brown
Delivered by UPS
From UPS employee to business and media mogul, Tabitha Brown has made a name for herself. Tabitha's energy is unmatched through her authenticity, love of family, TV appearances, and uplifting social media content. In an intimate conversation with UPS's Kevin Warren, Tabitha, and her husband Chance will discuss the importance of amplifying Black voices, supporting diverse-owned small businesses, and removing barriers in the TV and film industry.
Panelists: Tabitha Brown, Chance Brown
Moderator: Kevin Warren, EVP and Chief Marketing and Customer Experience Officer, UPS
Creating Cultural Capital
Presented by Cadillac
Filmmakers demand we see the world as it truly is—or truly ought to be. Cadillac is proud to host a conversation with Tarshena Armstrong, Director of Diversity Marketing & Development, General Motors along with noteworthy writers, directors and producers and focus on how films instigate cultural conversations and affect change.
Moderator: Stacey Walker King, Chief Brand Officer, MACRO
ABFF First Look: The Color Purple – A Bold New Take on a Beloved Classic
Presented by Warner Bros. Pictures
Sunday, June 18, 2023
ABFF Community Day 2023
Sponsored by the Greater Miami Convention & Visitor Bureau (GMCVB)
This year's annual Community Day will present a screening of MAX's animated series "Young Love" from Oscar-winning filmmaker Matthew Cherry ("Hair Love"). Filled with comedy and heart, "Young Love" is an honest look into the world of the Young family – including millennial parents Stephen and Angela, their daughter Zuri and her pet cat Rocky – as they juggle their careers, marriage, parenthood, social issues, and multi-generational dynamics all while striving to make a better life for themselves. Join the film's director Matthew Cherry and a special guest.
Virtual Talk Series Events available on ABFF PLAY June 19 – 25, 2023
Financial Health and Wellness: Money Worries and Your Creative Flow
Presented by Ally
Come join Ally Financial and a powerhouse panel as they explore how economic anxiety may be showing up in your life, its impact on your physical, mental, and social well-being, and how to manage it.
Panelists: Demetrius Scott, Financial Education, Ally, Dr. Rose Moten, Founder of Bloom Transformation Center, Jamel Randall, Owner of Trap Yoga Studio & Mindfulness Expert
Moderator: Jack Howard, Financial Health & Wellness, Ally
Hip Hop Destinations: The Conversation
Presented by Andscape
The regional differences in hip hop have always created rich conversation among artists and fans. What makes each locale different factors into what makes the culture great as a whole. With that in mind, we gathered six hip hop luminaries to discuss the finer points of what makes each of their cities an essential piece of the culture's landscape.
Series featured guests: Fuzzy the Connector, Kim Osorio, Symba, Icewear Vezzo, Miabelle and Baby Jade
Hitting the Right Note: Creating Access for Emerging Composer Talent in the Industry
Presented by Comcast NBCUniversal
This panel will feature current participants and successful alumni from GTDI's flagship program, the Universal Composer Initiative and highlight their journey as they take the next steps in their careers in the industry. The discussion will aim to showcase some of our emerging diverse talent, as well as provide perspective on how they view access and representation in the industry.
Panelists: Jognic Bontemps, Pierre Charles, Raashi Kulkarni
Moderator: Angela Leus
Keeping It Real: Maintaining Mental Wellness as a Creator of Color
Presented by Comcast NBCUniversal
While inclusion efforts in the entertainment industry have improved, many people of color still find themselves as the only diverse voice in a room. The stress of being "the only" while also striving to have your ideas heard and implemented can greatly impact a person's mental and emotional health. During this conversation, alumni from NBCU LAUNCH's writing and directing programs for diverse talent will discuss the nuances of balancing their experiences on set and in the writer's room and maintaining their mental wellness.
Moderator Dr. Tara Doaty, Sage Wellness Group
Use IMDbPro to Navigate and Advance Your Entertainment Career
Presented by IMDb
IMDbPro, the essential resource for entertainment industry professionals, invites you to join a special virtual webinar to learn more about using IMDbPro to find your next projects, discover people to collaborate with and promote yourself and your career. Explore new features like how to self-submit and manage the display of your demographic information, including gender, race/ethnicity, birth year, and more, to be discovered by fans and industry decision-makers on IMDb and IMDbPro. Try IMDbPro for free at www.imdbpro.com.
Since its inception, the highly regarded American Black Film Festival has become a cornerstone for diversity in Hollywood. It has premiered the work and supported the careers of many of today's most successful filmmakers, actors, writers and stand-up comedians, and is recognized as a standard-bearer of excellence for Black creativity. Continuing its legacy to empower Black artists and showcase a wide range of entertainment content, the ABFF features studio premieres, independent films, master classes, panels, talent showcases, networking and hospitality events.
ABFF sponsors and partners to date are Warner Bros. Discovery and HBO® (Founding), Andscape, Ally, Comcast NBCUniversal, Walmart, Cadillac (Presenting), City of Miami Beach, Greater Miami Convention & Visitors Bureau (GMCVB), UPS, TV One Networks, Netflix, Meta, Prime Video (Major), American Airlines, IMDb, Sony Pictures Entertainment, Variety, YouTube Black Voices, Prudential Financial, ALLBLK, Bounce TV, OWN, Warner Bros. Television (Official), A&E Network, BET Media Group, Motion Picture Association (MPA), Confluential Films, Miami Beach Visitor and Convention Authority, Pfizer, Procter & Gamble, Fulton Films GA, ESPN Films, Lionsgate (Supporting).